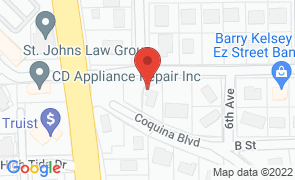 Tropical Smoothie Café in Durbin Pavillion
45 Durbin Pavilion Dr Ste. 108, St Johns, FL, 32259
Tropical Smoothie Café in St. Augustine specializes in refreshing and tasty smoothies, such as their low fat Mango Magic or the decadent Caramel Cream coffee. 
The options are endless at Tropical Smoothie Café. They also are serving other menu items like breakfast and for lunch, wraps, sandwiches and flat-breads.
Their other St. Augustine locations include The Shoppes of Murabella at 124 Tuscan Way, and in Moultrie Square at 4255 US Highway 1 South.