The top deck seating has really added to the experience of outside dining at Sunset Grille. Eating out always makes me feel like I'm on a mini vacation; I don't have to cook and I won't be doing the dishes later. But eating out by the beach really screams vacation to me. I'm one lucky local to have this place so close! I can visit anytime to enjoy a meal under the umbrellas, with views of the ocean and the salt water smell in the air – it is a clear reminder that in St. Augustine, a vacation is never far. 
What better way to enjoy my afternoon then by starting it with a fresh citrus drink. We are in Florida after all so I tried Sunset Grille's signature cocktail, the Sunset Bella-Tini. Bursting with citrus flavor and a taste of alcohol that is not overpowering like most martinis, I will surely be ordering it again. My husband, Dee, went for a Goombay, a stronger cocktail that has different kinds of rum, and a few juices.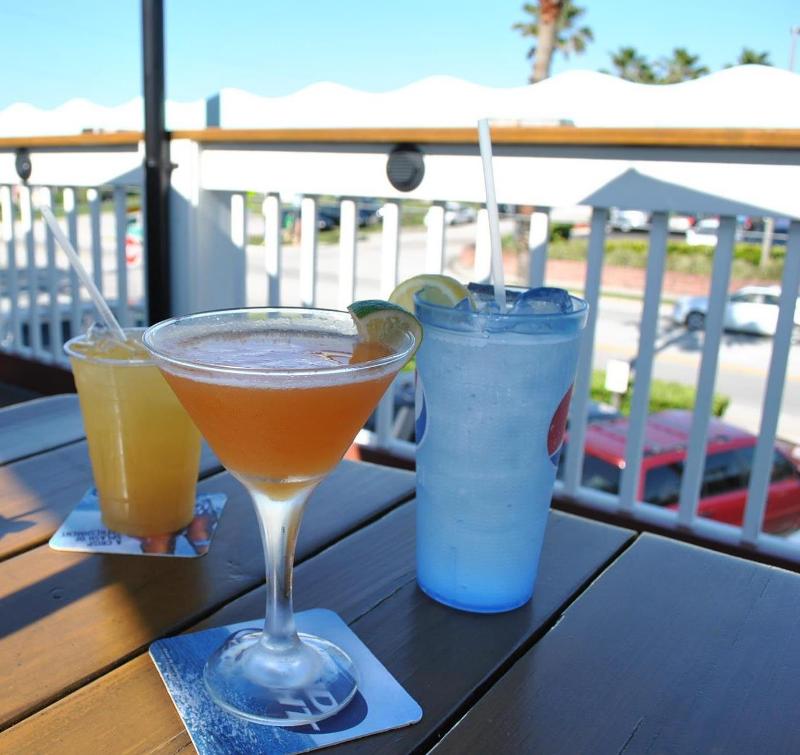 Goombay, Bella-tini and a water as a required sidecar.
With so many appetizing items on their menu it was difficult to decide what to order. Choices like Lobster Mac and Cheese, a number of specialty sandwiches and award winning ribs and chowders made it very hard to make up our minds. We went with our knowledgeable waitress's recommendations and tried some of their most popular signature dishes. When the Three Cheese & Crab Fondue was set on the table we were both a little shocked by the two crab legs poking out of the top. Don't worry though, they did supply us crab crackers for that messy endeavor. The bread bowl was overflowing with fondue and had a moat around the base of more of the cheesy, crabby goodness to dip in. This is easily my favorite item on the menu, make sure you try this one!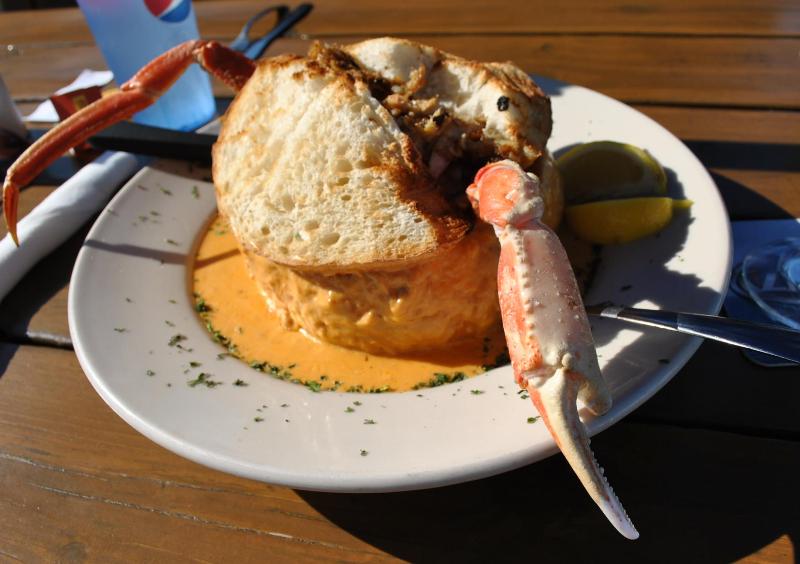 The Three Cheese & Crab Fondue is enough for two or more.
For my main course I had the Ultimate Fish Sandwich, my go to sandwich at Sunset Grille. The fish filet is mammoth and a bit of mess to eat with the cabbage, grilled onions, tomatoes, cheese and sauce- but man is it good! The melted cheese and their special sauce bring this from the typical fried fish sandwich to it's appropriate title of The Ultimate Fish Sandwich.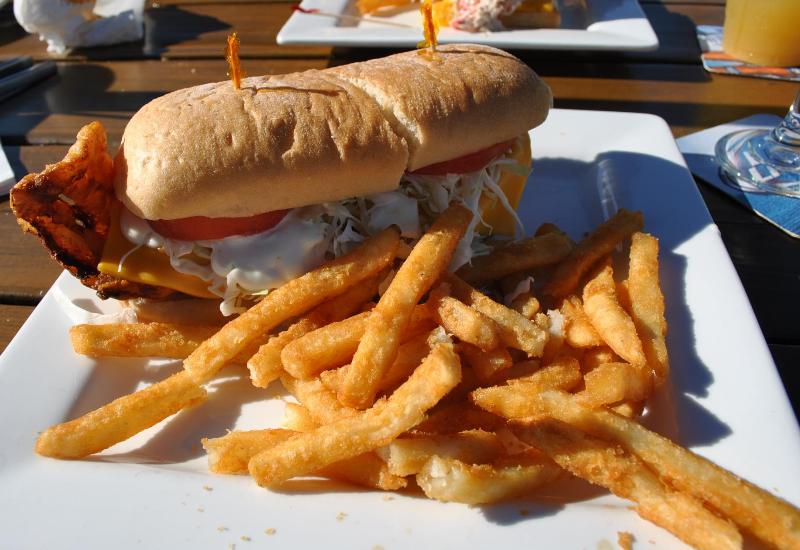 The filet on The Ultimate Fish Sandwich is larger than the bun!
The Seafood Salad Melt was Dee's choice, and I almost stole it from him. 😉 This is a newer item on their menu and one we hadn't tried before, we were very impressed to say the least. Served chock-full of lobster, crabmeat and shrimp, topped with melted cheese on a crispy grilled ciabatta bun, this is one of those sandwiches you will think about a couple weeks later and crave like no other.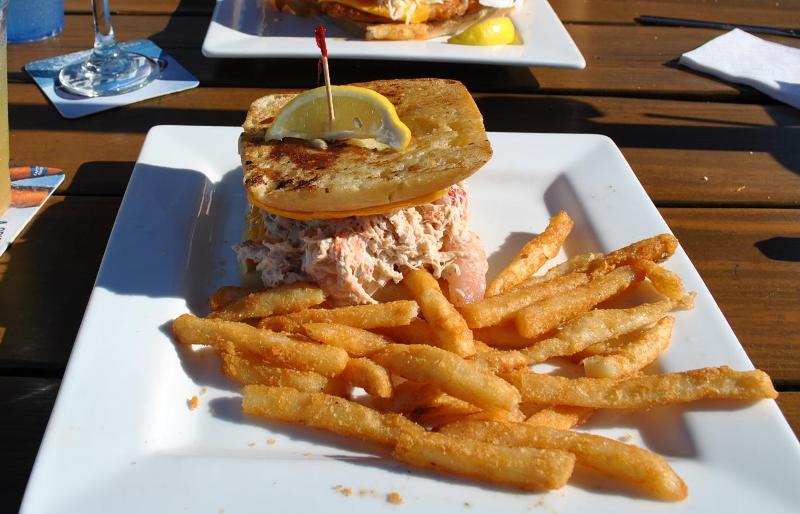 The Seafood Salad Melt is packed full of a combination of seafood for a great meal.
If we had any room left in our bellies after eating all this (and having boxes to go) I would have kept up the ultimate trend and ordered The Ultimate Brownie. With gooey, heartwarming chocolate three layers deep, my chocolate loving self would have been in heaven.
It is great to enjoy a meal outdoors with loved ones, but if rain or heat keeps you inside you will be welcomed by the Florida themed decor and cool A/C. Families with children will be satisfied with an affordable kids menu with all items under $6.99. Sunset Grille has a full bar with seating on the outside patio or inside the bar area where you can also order food. I have enjoyed all of the available seating options over the years coming here and have to say, the top deck is where it's at and is worth the wait if there is one.
If you are looking for other tasty restaurants in St. Augustine with a view be sure to check out:
Local St. Augustine blogger Meaghan Alvarado is a Flagler College graduate who writes on many topics ranging from fashion and food to crafts and local St. Augustine happenings. Check back here at Augustine.com regularly to see the great events and activities Meaghan will be writing about next, and check out her personal blog at http://justmeaghan.com/.