If you've visited Florida a dozen times or you're a St. Augustine local, you know that surfing is big here. If you haven't tried it, perhaps it's time to take a few lessons.
 After all, some people suggest that you're not a true Floridian and/or Florida vacationer until you stand up on a surfboard and ride a wave.
Local classes are very affordable, usually falling anywhere from $40 to $80 a day. The more people who take a lesson, the cheaper it typically is per person. A single lesson will give you all the basics to surf on your own. Surf lessons make for a fun group activity with friends and/or family, combining an invigorating workout with precious moments of watching people you care about fall face-first into the ocean. Check out these local instructors and camps in St. Augustine and find a place to learn how to surf. If you find a surf class you like, call them to reserve a spot for a class. If you have a bit more time or you're looking for summer activities for the kids, consider checking out surf camps.
Lessons: $40 an hour per person
5-Day Surf Camp (Ages 7+): $150
(904) 501-4446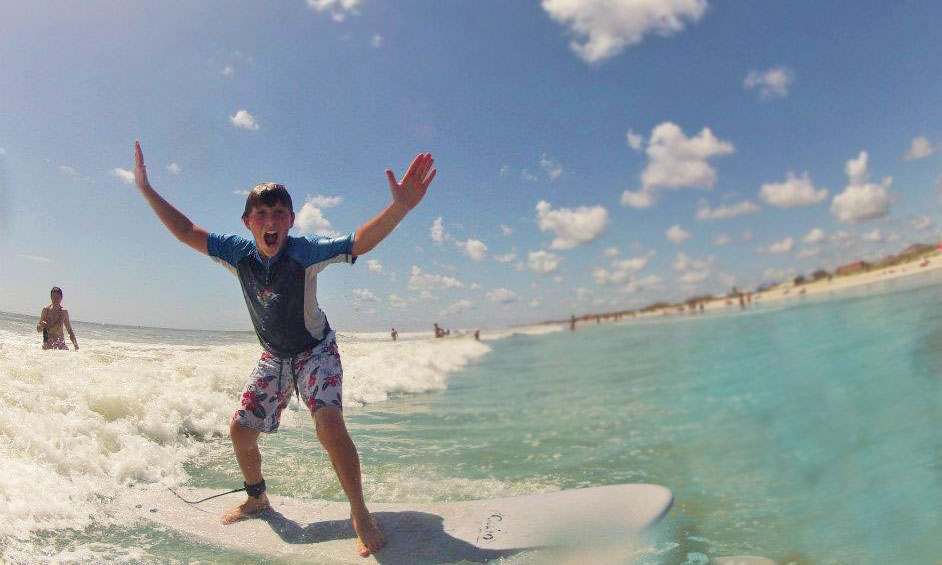 Seriously though, could this kid be more stoked to surf?
Stoked to Surf offers lessons for anyone from beginners to competition-level surfers. The classes are taught by a CPR-certified instructor who offers private lessons as well as a week-long camp for kids seven and up.
The camp has a three-to-one student-to-teacher ratio and runs Monday through Friday, 8:45 to 11:45 a.m. The camp is $150 a week and includes lessons on safety, entering the water, standing up, waxing a surfboard, and more. Camps run from June to early August. Call for more information on group pricing.
Lessons: Starting at $70 per person
4-day Summer Camp (Ages 5-17): $170
(904) 770-5220
Endless Summer Surf School offers private lessons and a surf camp. The camp is four days, with Friday reserved as a make-up day in case of bad weather. The class times are from 9:00 a.m. to 12:30 p.m. Camp price includes boards, healthy snacks, and drinks (fruits/snacks from local markets included). Parents/guardians are welcome to bring their own snacks in case of food allergies. Private lessons are available with one-on-one instruction available or lessons for groups. All instructors are CPR-certified and lifelong surfers.
Lessons: $55–$75 per person
4-day Summer Camp (Ages 7-16): $230
Week 5 Only Mini Group Camp (Ages 4-6): Call for price.
(904) 206-7873
St Augustine Surf School offers private lessons to all ages on how to surf. The lesson is 90 minutes long and led by the owners of Surf School. Not only are the owners CPR-certified, but they care about making your surf experience one for the books, whether you're local or on vacation in St. Augustine Beach. Surf instructors will cover safety precautions of surfing, technique, and movements, as well as ocean awareness in order to keep a lookout for the optimal surf times.
The price of the classes ranges from a group of four or more for $55 a student to private one-on-one lessons for $75 a student. St. Augustine Surf School also runs a summer camp Monday to Thursday, 9:00 a.m. to 12:30 p.m., with Friday being a make-up day. The camp includes a t-shirt, professional photo package, snacks, water, fun and games, and surfboard rental. There will be a surf competition on the final day and a pizza party at Mellow Mushroom.
Lessons: $53–$80 per person
4-Day Surf Camp (Ages 7-15): $170 
(904) 471-4700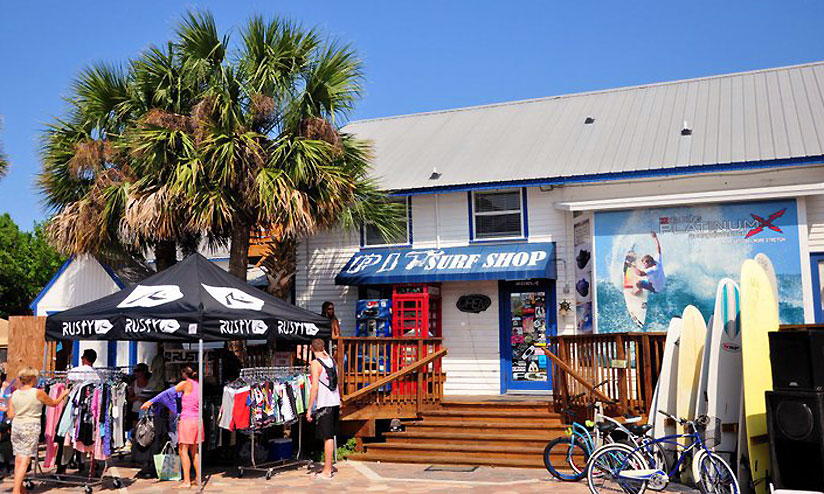 Surf lessons and smoothies at Stir It Up. If that's not a win-win scenario, then I have learned nothing from my time on this planet.
 
PIT Surf Shop has private lessons available every day of the week with 24-hour notice. Classes are taught by CPR-certified surf instructors and all equipment is provided. The lessons last two hours and can be scheduled any time between 9:00 a.m. and 5:00 p.m. Along with surf lessons, the PIT Surf Shop also offers stand-up paddle lessons for those wanting to travel the rivers of St. Augustine. The more friends and family you can get to join you, the cheaper your rate will be per person.
Plus, you can sign up for their surf camp that includes a week of lessons and fun for $170. Surf Camp dates run from May to August. They start on Monday and end on Thursday. The camp starts at 9:00 a.m. each morning and ends at 12:30 p.m. The camp is designed for ages eight and older, unless your younger child is a particularly strong swimmer. 
For more water sports and active ways to surf St Augustine, click here.
Lessons: $55–$75 per person
4-Day Surf Camp: $215–$310 (Half or whole day)
(904) 471-9463
Surf Station offers two-hour lessons for every level of surfer, whether you're just starting out or looking to sharpen your already fine-tuned wave-catching skillz (with a "z"). As always, instructors are CPR-certified and ready to give you an awesome workout on the waves. You'll need to bring your swimsuit, sunscreen, towel, water, and a snack. Rash guards are recommended for beginners, and board rentals and wetsuit (if needed) are provided by Surf Station.
Group lessons have a six-to-one student-teacher ratio. Surf Station also has a summer camp with half-day and full-day options. The camp runs from the end of May to mid-August and includes boards, refreshments, and instruction.
If you notice a surf camp or class not mentioned here, let us know!
Cover photo: Stoked to Surf, (904) 501-4446
This article was originally published in 2014 and has been updated to reflect current info on surf lessons and camps this year.