Everyone knows that during Bike Week every spring, Daytona Beach is the destination for all bikers and their friends. But you may not know that an ideal stop along the way to this spring ritual is the quirky little town of St. Augustine, Florida.
Motorcyclists understand that life is as much about the journey as it is about the destination. So it's no surprise that more and more motorcyclists choose to travel to Daytona on the scenic route, which is where St. Augustine comes in. It's hard to beat the scenery along A1A from historic St. Augustine just one hour north of the hustle and bustle of Daytona Beach. The natural beauty of St. Augustine Beach through Crescent Beach, Marineland, and Flagler Beach to Daytona is simply outstanding – high dunes, wide white-sand beaches, some with coquina rock outcroppings (pictured below), and abundant wildlife make this stretch of A1A a memorable journey.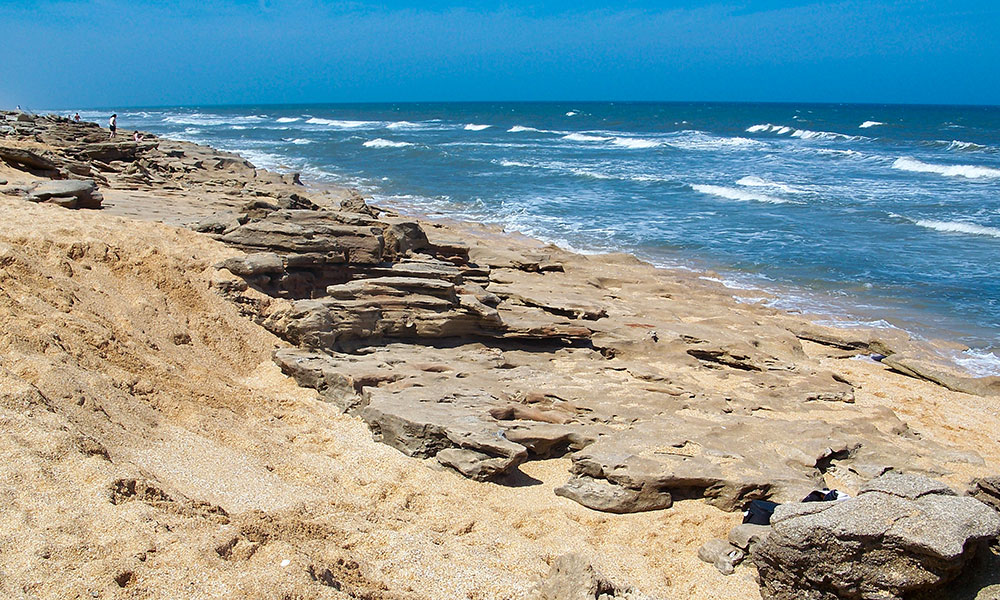 Coquina rock outcroppings on beach at Washington Oaks Gardens State Park.
St. Augustine itself is a one-of-a-kind experience, with its distinctly European style, its rich history, and narrow brick streets that are perfect for small vehicles, especially the two-wheeled variety. When you're ready to hop off that hog, St. Augustine's small size also means it's perfect for on-foot exploration. Or you can sit back and let someone else drive with any one of the city's various tour vehicle services, like Old Town Trolleys or Ripley's Red Trains. You can even opt for stepping back in time and taking a horse and carriage ride with Country Carriages. St. Augustine is the oldest continuously-occupied city in the U.S., so there's plenty of time to step back into.
The city reserves parking spaces exclusively for motorcyclists on Cathedral Place for the final weekend of Bike Week this year, beginning on Thursday, March 12. (Bike Week is March 6 – March 15, 2020.) This is the optimal place to park for accessing all that downtown has to offer, and other visitors will surely be envious. Two things to remember: First, the city still charges motorcycles the normal parking fee, but they've made it easier with their new parking app, ParkStAug. Cathedral Place is along the parade route and parking will be prohibited from early Saturday morning until the parade has passed and space has been prepared for the bikes.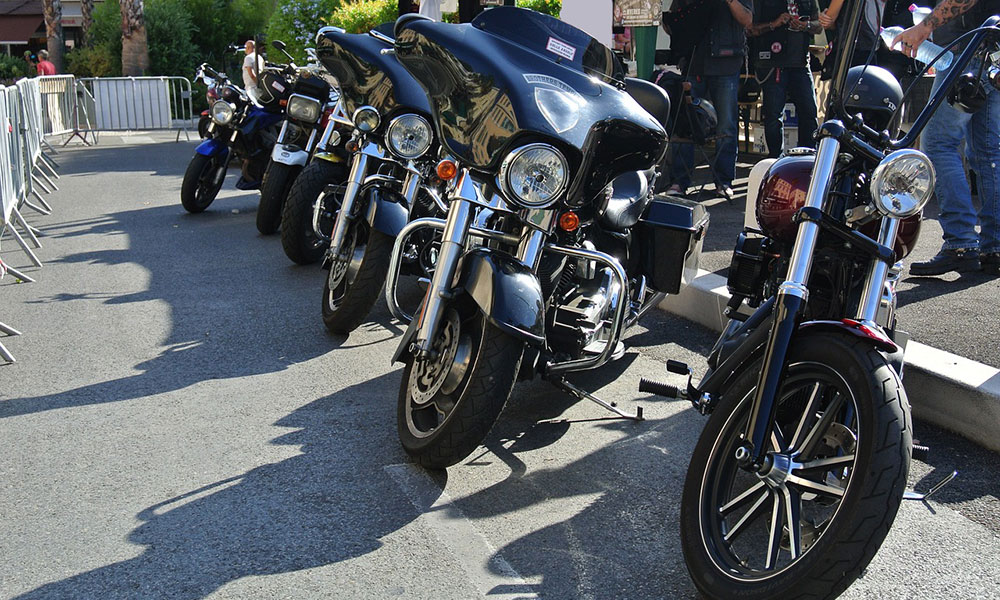 Motorcycle parking is available along the Plaza in downtown St. Augustine.
Chances are that if you're visiting Florida, and your destination is Daytona, you're going to want to spend some time at and around the beach. It comes with the territory when you travel to the Sunshine State. To fully embrace the sun, sand, and water, one need look no further than the A1A Scenic Highway. The legendary Florida State Road A1A provides a main vein North-South straight shot, nestled between the Atlantic Ocean and the Intracoastal Waterway, with incomparable views of both.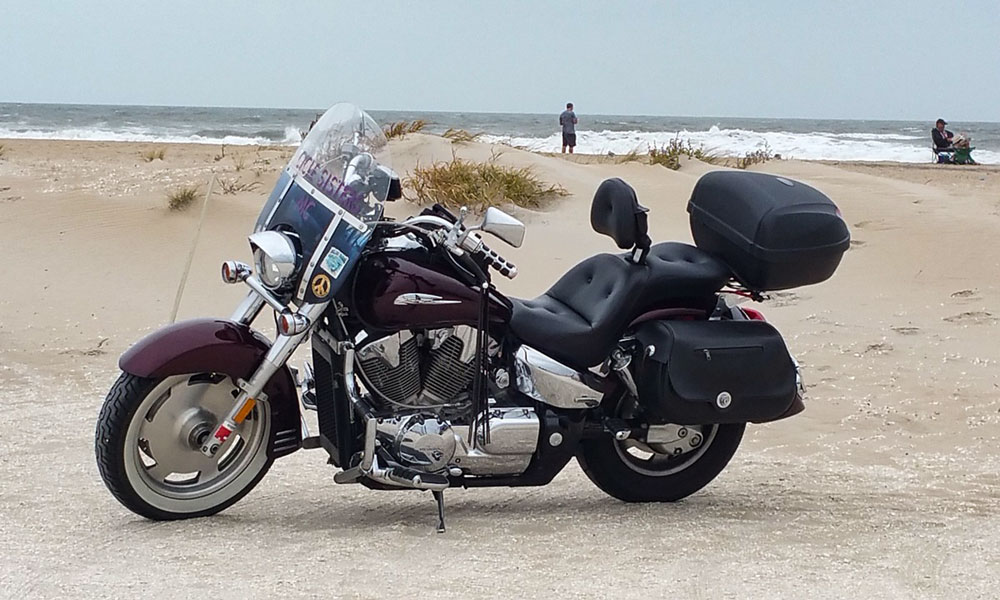 A1A North between Ponte Vedra Beach and St. Augustine is an ideal route to take if you're heading south from Jacksonville. Located between Ponte Vedra and St. Augustine is Vilano Beach. This sparsely populated beachside community boasts some great restaurants, including Cap's on the Water, and Beaches at Vilano. Cap's on the Water is heaven for seafood lovers, and is accessible by bike or by boat. Similarly situated is Beaches at Vilano, which offers seafood and bar favorites with an island flare that perfectly suits its maritime surroundings. If risking life and limb on the open road isn't already enough, Vilano Beach is internationally renowned for its skimboarding scene.
Continuing south, A1A South links to St. Augustine Beach, to Flagler Beach and eventually Daytona. St. Augustine Beach provides plenty of sights and activities. From camping, lighthouse touring, and Alligator Farm zip-lining, to surfing, sipping tropical drinks at the Sunset Grille, or enjoying a spectacular view of the ocean while sampling fresh seafood at Salt Life Food Shack (pictured below), there is no shortage of fun and frivolity to be had on Anastasia Island.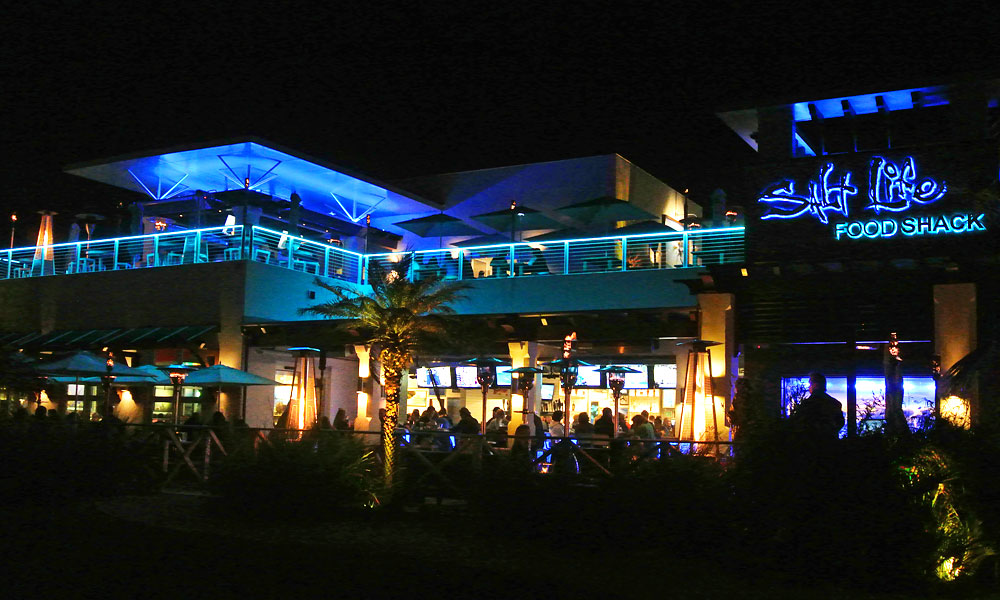 But after you party all night at the beach, there's still plenty of distance between you and Daytona. And that's perfectly fine, because in that distance you could swim with dolphins at Marineland, and have your breath taken away by the beauty of the land meeting the sea or take a side trip along International Golf Parkway – a surprisingly beautiful route from St. Augustine to World Golf Village. Head a couple miles north of downtown on US 1 and turn left onto International Golf Parkway. Do you like trees? You'll love them after this sublime ride.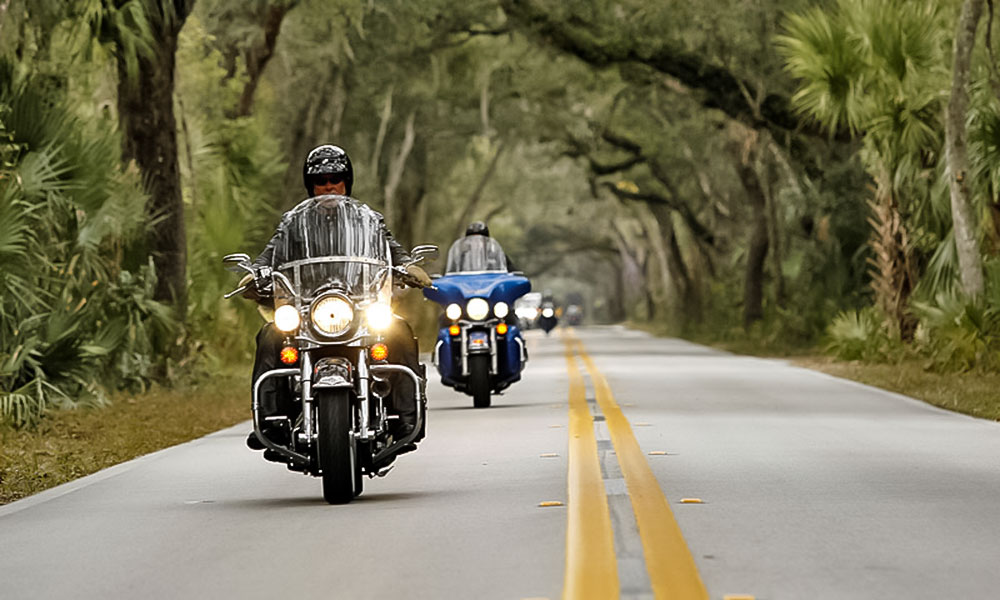 Ride through miles of Florida scrubland forest on International Golf Parkway.
There really isn't much of anything here, apart from lush and dense flora as far as the eye can see. It's a magnificent route even if you're stuck in a car. Once you get to World Golf Village, have a drink and a bite to eat at Murray Bros. Caddyshack.
Speaking of eating and drinking, Bike Week isn't just an event, but a celebration of freedom and the American spirit. Get some American spirits in you at biker bar legends like Tradewinds Lounge and The Bar None Saloon.  Tradewinds will have you dancing the night away to live, local music, and the Bar None Saloon is a favorite of local bikers, and known for their friendly bartenders.
If you're curious about local beer, look no further than A1A Ale Works. Their large lunch and dinner menu will satisfy the pickiest of appetites, and their freshly brewed-on-site craft beer will perfectly accompany pretty much any meal.
Over on the island, for lighter fare and local beer visit Osprey Tacos and take your meal next door to Old Coast Ales. Osprey Tacos, a laid-back taqueria, features tacos, taco bowls, and delicious sides, all made to order. Old Coast Ales crafts classic brews and experiments with new beer trends, offering ales, IPAs, porters, and more. If you can fit a growler on your ride, bring it in or purchase theirs and take one of your favorites with you to enjoy later at your hotel, bed and breakfast, or campsite.
As you now understand, you have much to keep you occupied during your stay. And you are staying, of course. But where, pray tell, should you stay? As with everything else thus far, when it comes to accommodation options, you have an embarrassment of riches. If you enjoy fishing and water sports, Devil's Elbow Fishing Resort, located on A1A South and pictured below, is a great choice. It's a great place to get off the road and into a cozy cottage or rent a boat and get out on the open water.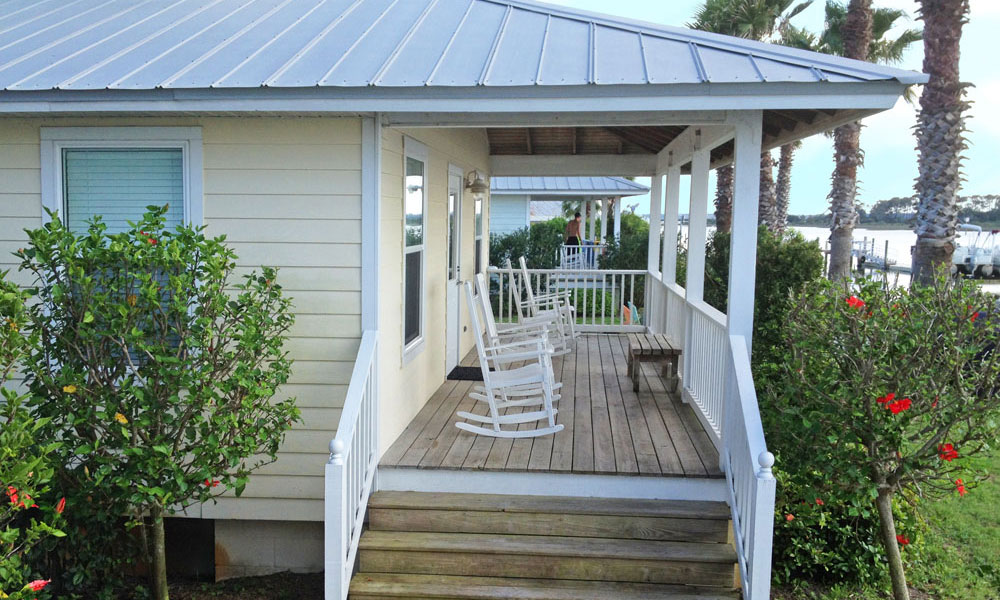 If you lack sea legs, or simply prefer living on the land, St. Augustine has a host of quaint, comfortable inns and bed & breakfasts. Old Powder House Inn offers a historic stay in the historic downtown district, as the building once stored gunpowder for the Spanish soldados stationed at the Castillo de San Marcos. Edgewater Inn, as its name implies, offers spacious waterfront rooms from which land lovers can still appreciate scenic views of the Matanzas and the downtown cityscape. Its location at the foot of the Bridge of Lions on Anastasia Island makes accessibility to both downtown and the beach a breeze.
No matter what it is that brings you to Bike Week, be it sheer love of the open road, tradition, the beach, or partying with friends and family, St. Augustine is much more than a pit stop on the interstate. This article has barely scratched the surface of all you could possibly see and do during your time in the nation's oldest city. For more information on what to do, what to eat, and where to stay, click here.
This article was originally written by Ben Tier on February 19, 2016. It has been updated to include current information for Bike Week 2020.