How did I wait this long to try Gypsy Chicken?! That is the question I keep asking myself since my visit to Gypsy Cab Company last week. Over the last few years more than one of my friends have raved about Gypsy Cab's salad dressing and their Gypsy Chicken, I finally heeded their advice and tried both. The colorful building that houses the restaurant flows with the bright interior walls and flavorful menu items. Read on to see what else we had and get a taste of Gypsy Cab, and no, it is not a taxi company!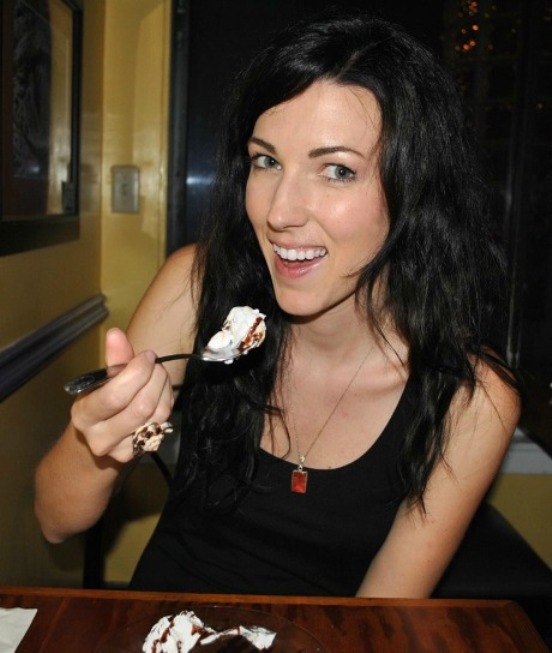 Starting you out with my favorite part- dessert! No I didn't eat it first, I should have though because most of it went home with us for later.
Does anyone actually eat dessert first? I know people say they do… but really, wouldn't it make the lettuce in your salad taste extra bitter? And what are you "clearing all the food on your plate" for if there's no dessert at the end? No thanks, I'll take my leftover confection home and eat it for breakfast tomorrow. 😉 The peanut butter pie had a chocolate ganache on top with a graham cracker crust, I think you could put these three ingredients together any way and they would come out delicious. These flavors belong together! Unless of course you're into fruity desserts, but no fear Gypsy Cab has some good desserts for you too.
My husband and I are cheese lovers, so when we saw the Cheese Spedini on the menu we had to try it. It was basically a thick slice of Swiss cheese with a bread crumb coating, topped with an herb butter and a side of mango salsa. The cheese rats that we are (we lovingly refer to each other as rats sometimes) we approve the Cheese Spedini.
The fact that there were actually a few Tofu options listed on their menu was a breath of fresh air. I feel like many of the local restaurants have vegetarian options but rarely list more than one (if any) on their regular menu. The table next to us ordered a pasta dish with Tofu in it and both husband and wife were loving it! He looked more like a meat and potatoes kind of guy to me but the fact that he actually ate more than a bite and enjoyed it—that's saying something in my book. Have you ever tried tofu? It tastes like the crappiest, blandest piece of spongy cheese ever, unless it's prepared correctly. High five, Gypsy Cab Company!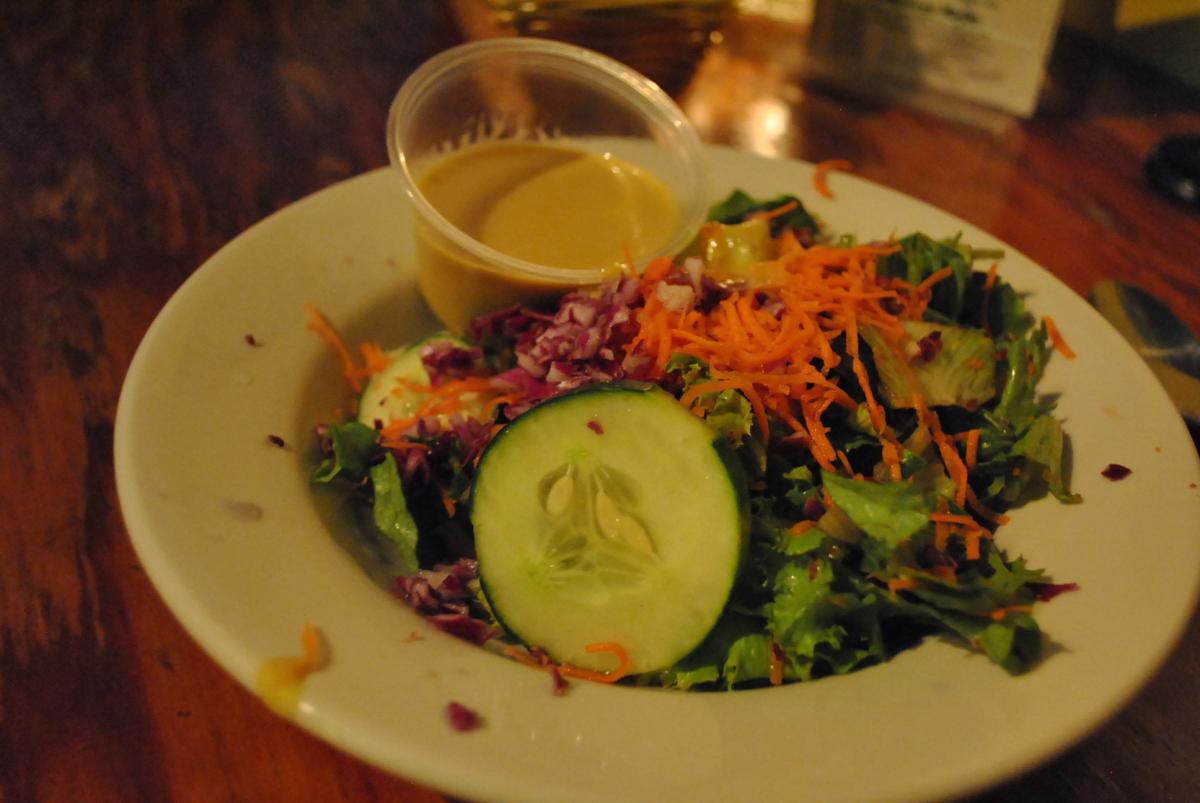 A side salad with the highly acclaimed Gypsy dressing. There is an entree version of this salad too that also has peppercinis, olives, croutons and other perfect salad mix ins!
This salad dressing made me want more. I like to think I have enough leafy greens, but when I have to blend them up in a green smoothie to get them into my diet I'm not so sure. The Gypsy dressing is so tasty that I was ready for a second salad. I jokingly mentioned to my husband I needed a bottle so I could eat more salads but we neglected to take any home this trip. I'm planning to go back in soon just to get their $8 bottle of dressing, it was that good!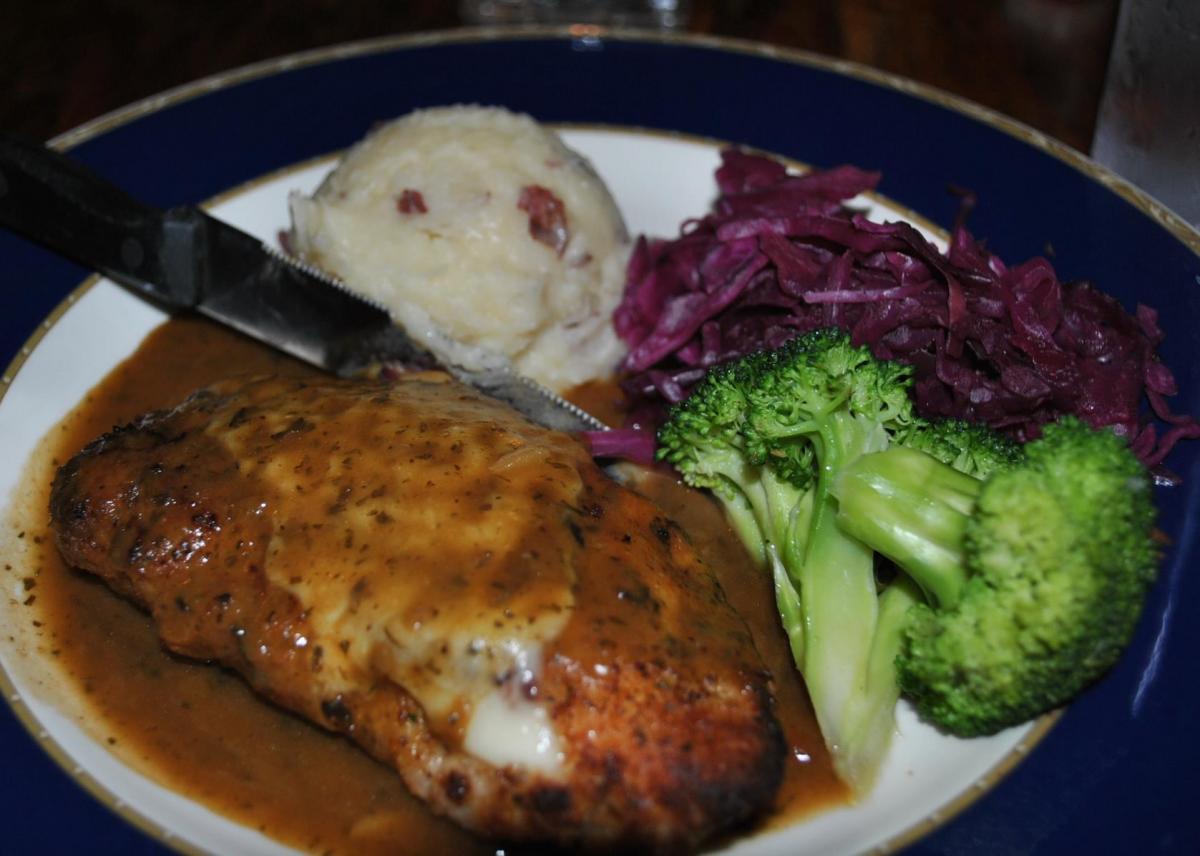 The famous Gypsy Chicken.
The Gypsy Chicken lived up to my friends' claims, however I'm not one to order chicken when I go out. That's something I know how to cook well and eat all the time, if I'm craving it I'll probably try to whip up something similar at home that night and go to Gypsy Cab later in the week for a big Gypsy Salad.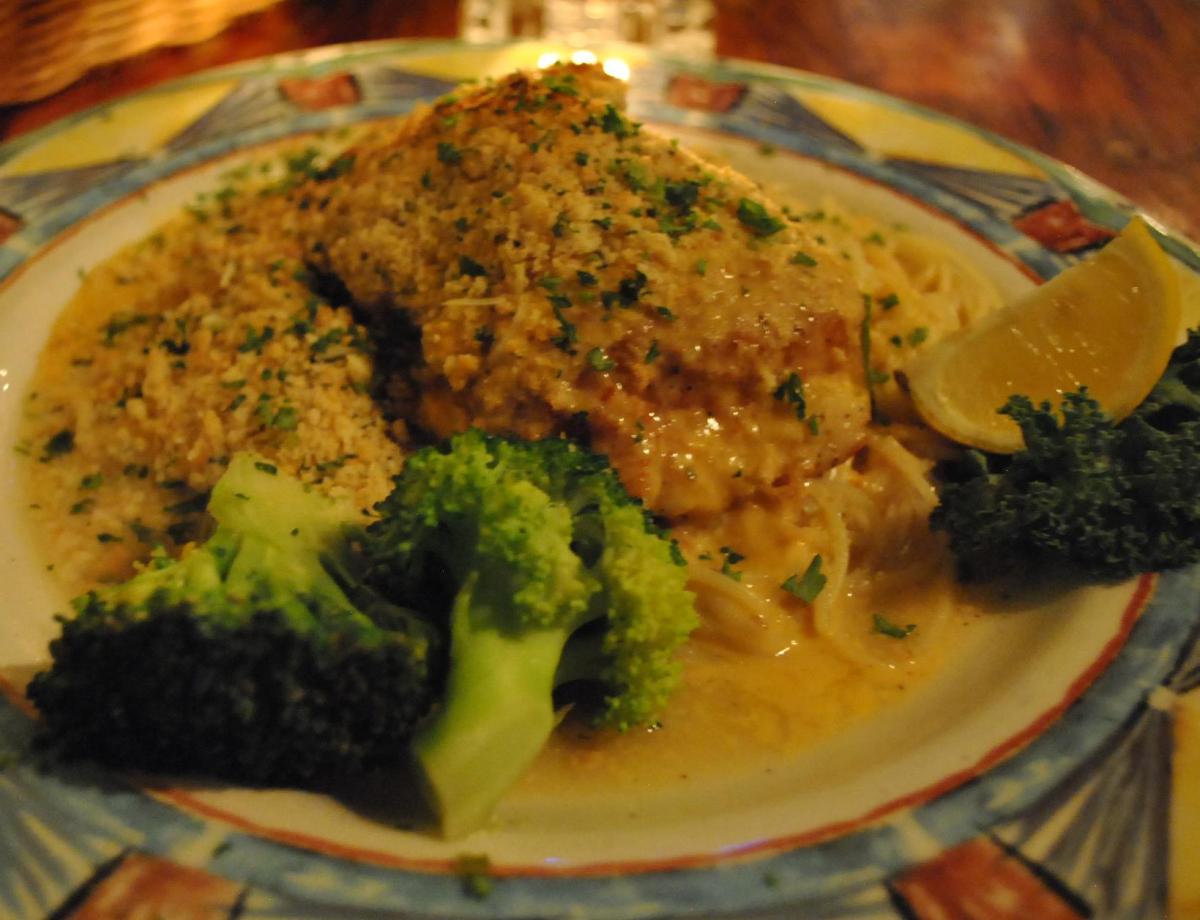 Dee had a Grouper special with a lobster creme sauce over angel hair pasta. YUM!
Fish however is a little more difficult for me to prepare. Don't get me wrong I can make a mean pesto salmon, but fish always makes me nervous to cook. Fish is something I enjoy ordering out and Gypsy Cab Company did not disappoint with their Grouper special. This was another time when I wanted to trade plates with my husbands for the entirety of the meal.
 I love the whole premise behind Gypsy Cab with their type of fare. They don't offer one thing like Italian, Cajun, or Caribbean food; instead they meld the flavors from various cultures for their constantly changing menu. Gypsy chicken and their salad dressing are a staple though and you can bet they will have them when you go! I will surely be going back soon, and for more than just the salad dressing. We had a great time and enjoyed the change from a typical restaurant menu.
Looking for more restaurants with an edgier menu than the norm? These places cater to the tastes of meat eaters and vegetarians:
 
Local St. Augustine blogger Meaghan Alvarado is a Flagler College graduate who writes on many topics ranging from fashion and food to crafts and local St. Augustine happenings. Check back here at Augustine.com regularly to see the great events and activities Meaghan will be writing about next, and check out her personal blog at   http://justmeaghan.com/.